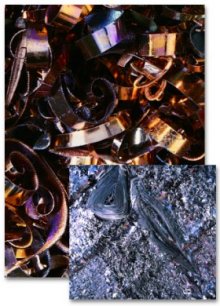 Our corporate goal is to achieve the highest possible level of performance and customer service.  We handle industrial accounts exclusively, and endeavor to treat all our customers with the integrity and respect that they deserve.
Because we understand the need to increase profitability in today's competitive marketplace, we will work with you to design a custom program to maximize your scrap return.  Several pricing options are available, on a daily, weekly, or monthly basis.
Your scrap metal is transported to our facility, where it is weighed on state-certified scales.  We provide your company with a computerized scrap receipt that itemizes the material, unit price, and total price.
Payment, too, can be arranged according to your preference.  Mattatuck will always work with you to customize your payment schedule, as well as any other component of your scrap program. 
Some of the Industrial Scrap Metals Purchased:
Aluminum
Brass
Bronze
Copper
Ferrous (all grades)
Lead
Nickel

Tin
Titanium
Precious Metals
Stainless Steel
Zinc
High temperature 
and specialty alloys